Nursing State License and Renewals
At RN Staff, getting you to your preferred travel nursing destination is our priority. To help you understand state license and renewal requirements, we created some clickable links that will give you quick-and-easy access to the information you need.
Here's What You Need to Know:
We'll pay for your nursing license and help expedite the process.
Plan Ahead so we can get you where you want to work on-time.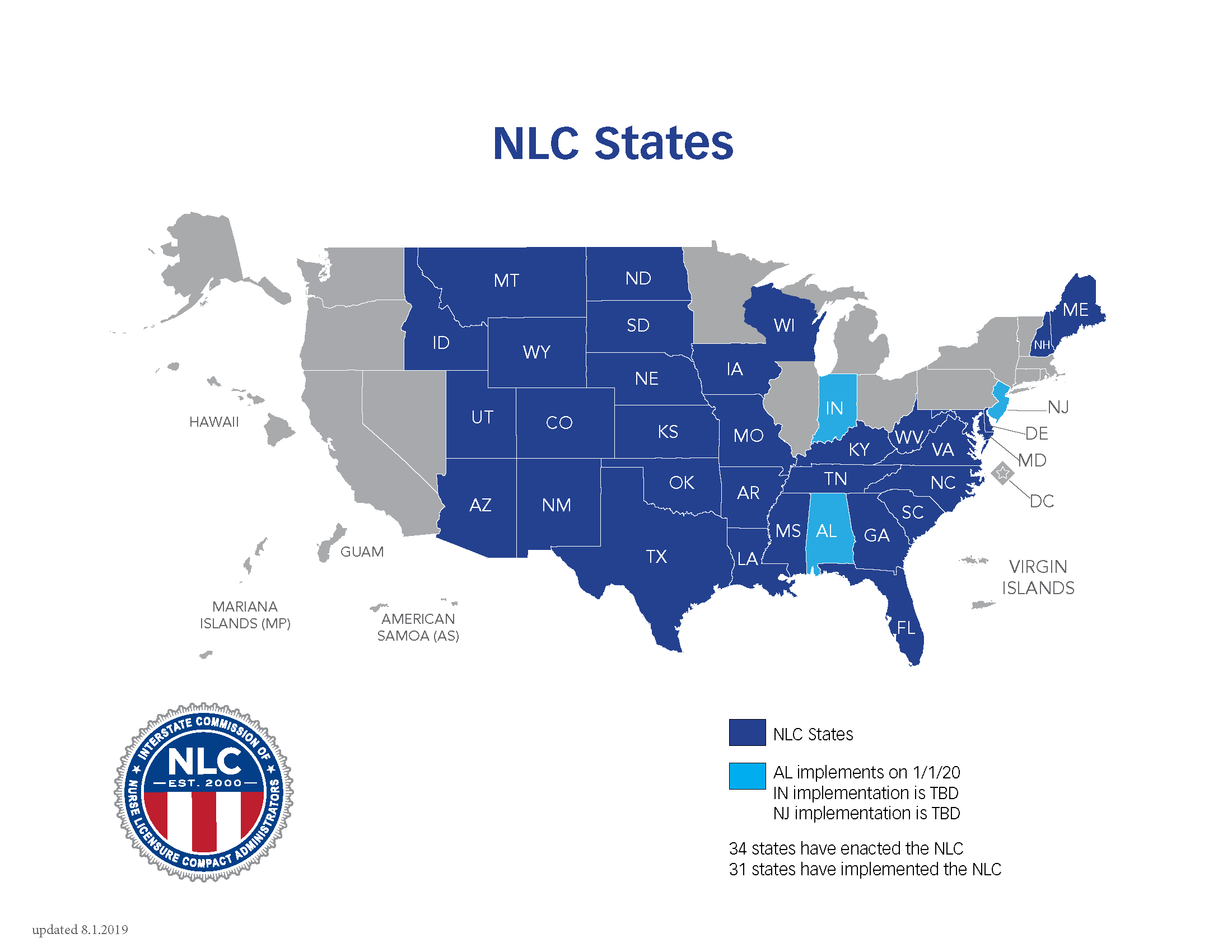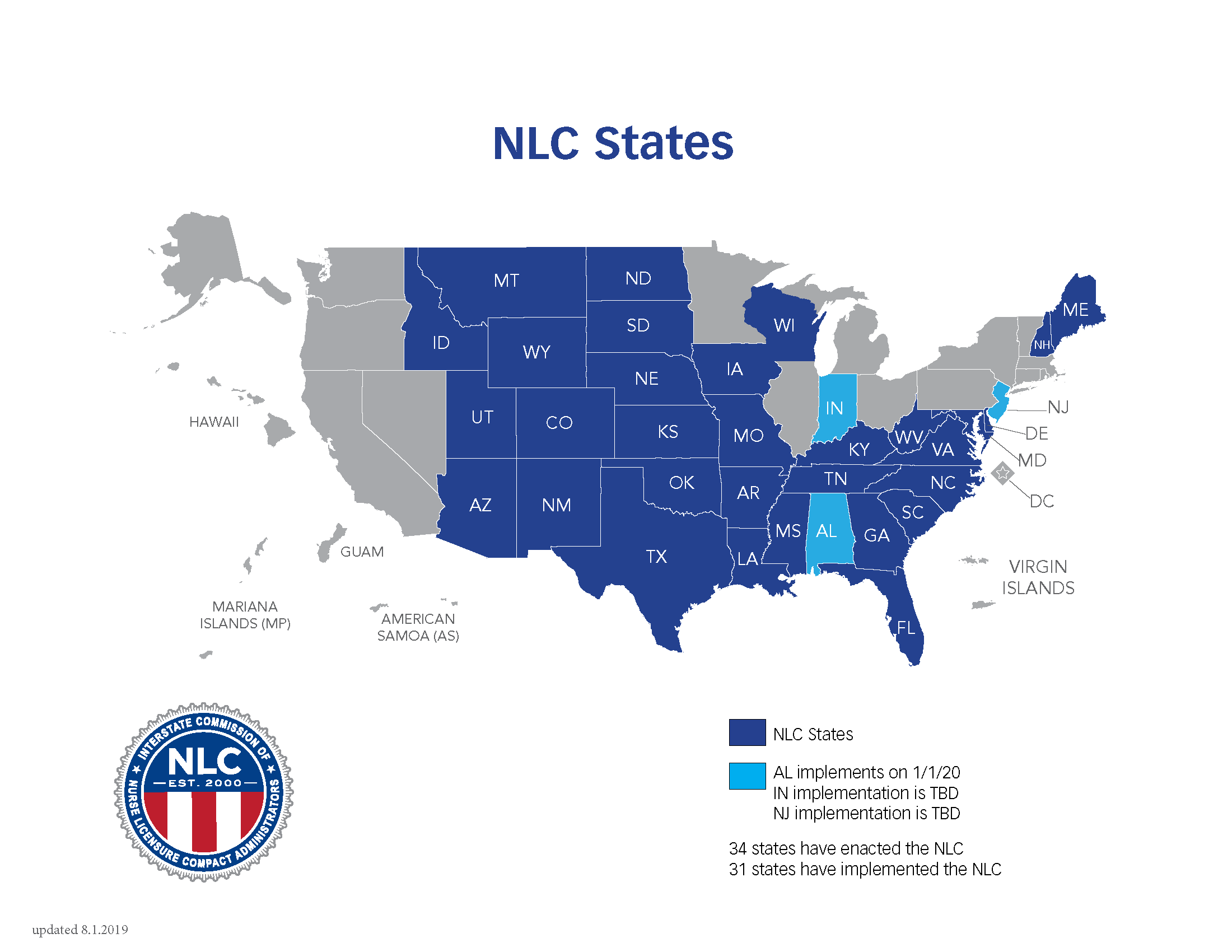 * Paperless nurse licensure process. 
+ Special fingerprints or background check process may be required.
| State | Compact | Walk-through | Time Frame |
| --- | --- | --- | --- |
| Alabama | YES | | 2 Weeks |
| Alaska | | | 2 Weeks |
| Arizona+ | YES | YES | License issued 48-72 hours after the walk-through |
| Arkansas | YES | | 10 days for new |
| California+ | | | |
| Colorado | YES | | 4 weeks for new |
| Connecticut | | | 2 weeks |
| Delaware | YES | | 2 weeks for new |
| District of Columbia | | YES | |
| Florida+ | YES | | 4-6 weeks (1-2 if fingerprinting are done in-state) |
| Georgia | YES | | 4-6 weeks |
| Hawaii | | YES | Closed on Fridays |
| Idaho | YES | YES | |
| Illinois | | | 4-6 weeks |
| Indiana | YES | | 2-3 weeks |
| Iowa | YES | | 2-6 weeks for new |
| Kansas | YES | | 2 weeks |
| Kentucky* | YES | | 2 weeks for new |
| Louisiana | YES | YES | Walk-through is for a temporary license; 4-6 weeks otherwise |
| Maine* | YES | | 2 weeks for new |
| Maryland* | YES | YES | Temporary license issued after 1-2 weeks; Permanent issued after 4-6 months |
| Massachusetts | | | 4-6 weeks |
| Michigan | | | 6-8 weeks |
| Minnesota | | | 4-6 weeks |
| Mississippi | YES | YES | |
| Missouri | YES | YES | |
| Montana | YES | | 1 week |
| Nebraska | YES | YES | |
| Nevada | | | 6-9 weeks |
| New Hampshire* | YES | | 2-8 weeks for new |
| New Jersey | YES | | 4-6 weeks |
| New Mexico* | YES | | 2 weeks for new |
| New York | | | 6-8 weeks |
| North Carolina* | YES | | 2 weeks for new |
| North Dakota | YES | | 1 week for new |
| Ohio* | | | 4-6 weeks |
| Oklahoma | YES | | 3-4 weeks |
| Oregon | | | 3 weeks |
| Pennsylvania | | | 2-3 weeks |
| Rhode Island | | YES | 4+ weeks for new |
| South Carolina | YES | YES | |
| South Dakota | YES | YES | |
| Tennessee | YES | | 4-6 weeks for new |
| Texas* | YES | | 2 weeks for new |
| Utah | YES | | 3 weeks for new |
| Vermont | | YES | |
| Virginia | YES | | 4 weeks for new |
| Washington* | | | 4-5 weeks |
| West Virginia | YES | | 1-2 weeks |
| Wisconsin | YES | | 2 weeks for new |
| Wyoming | YES | | 2-3 weeks |