Bringing healthcare professionals and facilities together
RN Staff Inc. is a nationwide healthcare recruiting and staffing company. We place Nurses across all specialties within all types of healthcare settings. We recruit qualified healthcare professionals in the U.S. and internationally to meet the needs of our diversified client base. The RN Staff team dedicates time to making long-term matches between our qualified clinical professionals and our client healthcare facilities in the United States. We look to fill both temporary and permanent staffing needs.
To be recognized as a sophisticated, cutting edge; a multi-state company focused on innovation and growth. 
We provide staffing solutions in all the clinical settings.
Celebrating our Nurses with Exemplary Awards
"I would like to share about the achievement that I had in MCH. My Charge Nurse spoke to me and gave me an envelope and surprisingly I just got nominated again for Daisy Award not just one but 5 people for the month of January. Thanks RN Staff for being part of my journey as a USRN. May God bless us all."
- Nurse Bryan
What patients have to say
Very informative, very professional, very caring. Excellent human being. Treated my mom wonderfully, even brought me a cup of hot coffee. 5 Stars!
Was really nice and did great. Very attentive!
He was wonderful with my mother, he took such great care of her and made her feel at ease despite her situation.
Nurse Bryan was very attentive with my uncle. The most thing that caught my attention is that he and the day nurse discussed my uncle before his shift. He was very positive throughout my time there and explained everything he did as he was taking care of my uncle.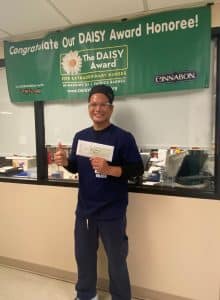 The DAISY award is an international recognition program that honors compassionate connected care that nurses provide every day.
The BEE (Be Extraordinary Everyday) Award was created to complement the DAISY Award that is given to exemplary nurses.
We congratulate Nurse Rico on receiving these honors.